Ring in the steampunk decor to pimp up your home
A steampunk composition in your interiors works the best when the furniture, accessories and lighting are in harmony with the decor pieces and the palette. An easy to achieve DIY style, steampunk has some tacit rules to get the perfect look. Choosing among the muted neutral shades of brown, cream, dark red, black and dark green, metallic colors or color combinations of the said tones, as per the room, works really well.
Old refurbished furniture is a proven way to add oodles of special charm to any home. If you wish to create a steampunk style at home, it is better not to buy new furniture unless it is specific to the Victorian era. Although variations are available, all pieces of quintessential steampunk furniture boast of a rather raw, rough edge typical to the industrial style, with plenty of metallic insertions, strange unconventional shapes and up-cycling ideas, old gears & belts. Another key aspect of steampunk decor is old chests that can be easily transformed into graceful coffee tables, side tables or no-frills storage solutions. Old trunks and vintage suitcases oftentimes have a sentimental value, due to which their vintage appeal is generally incorporated into steampunk decor.
If the structure of the building does not allow for an exposed brick wall, wallpaper depicting bricks is a good idea. Further, wallpaper, decals or wall murals can be conveniently created using old maps- simply frame and hang them on the walls. Another great idea is to decorate the lampshades with old maps. Remember: the older, the better! Wallpapers or self-painted motifs with a Victorian pattern/ classical old-world book characters are not bad either.
Items with a characteristic Victorian essence like an old & used terrestrial globe, classy top-hats or bowler hats, canes or a Victorian dress for the mudroom wall hooks, antique sewing tables, old steamer trunk to be used as a living room table, exposed framed herbariums for the hallway, sepia photos for the walls, technical & anatomical drawings/ sketches and antique barometers, telescopes or typewriters are wonderful examples of decor items for steampunk style. Displaying old hard-covered books and old notebooks with leather covers can also make a mighty style statement if arranged tastefully. Creating a metal pipe bookshelf is a smashing idea to display the old books in an elementary industrial style that is quite easy to handle as well. 
Textural contrasts by combining a hard material like leather with a soft one like lace goes a long way in achieving the typical steampunk design idea. So, it is safe to say that a good deal of the visual appeal of steampunk comes from the juxtaposition of conventionally feminine & masculine elements.
Gears are important items in the steampunk style, and a gear wall clock is a nice way to unleash some creativity. Decorating the walls with gear wall clocks is another of DIY steampunk design elements. An old clock with exposed gears conveys an honest design and can be the focal point on an otherwise blank wall. Old gears can also be used to create & display numerous industrial art decor pieces that fit perfectly into the aspired style.
Last but not the least, artificial light is a key feature to go with the steampunk style of decor. After all, one cannot appreciate the beauty of a rust red room with dark leather furniture & a multitude of old touches in the absence of light. Warm lighting transforms the space, softening edges, molding surfaces, adding powerful contrasts & delicate shadows and thereby making the room much more welcoming. Steampunk design tends to drift onto the rough zone and this is where artificial lighting comes in to balance the look. A chandelier is a good idea if you have high ceilings. Candelabra chandeliers are a great option as they bring in Victorian hints of luxury and comfort too.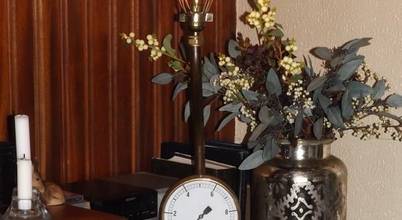 Ring in the steampunk decor to pimp up your home. Steampunk decor usually needs bold hues which create an intense & powerful background for all sorts of industrial gadgets like gears & pipes used for lighting fixtures and as decor pieces. A large number of home-owners consider such tones to be too loud & inappropriate for the light, soothing palette decking up their snug interiors.
Steampunk Ring. Steampunk Decor Generate some hi-voltage energy with this pewter ring from Alchemy of England. As you twist the ring over your magnetic finger, electricity is induced in the copper coils which can then power your iPod (in theory).
Ring "Steampunk" Online Kaufen. Ring "Steampunk" aus Metall, mit Kunststoff-Zahnrädern und Schmucksteinen, größenverstellbar, Farbe: schwarz/gold/silber, Zahnrad Größe: 2,5 cm. Material: 100 % Metall.
Video of Ring in the steampunk decor to pimp up your home
Ring in the steampunk decor to pimp up your home
nk" aus Metall, mit Kunststoff-Zahnrädern und Schmucksteinen, größenverstellbar, Farbe: schwarz/gold/silber, Zahnrad Größe: 2,5 cm. Material: 100 % Metall.
Steampunk Ring. You searched for: steampunk ring! Etsy is the home to thousands of handmade, vintage, and one-of-a-kind products and gifts related to your search. No matter what you're looking for or where you are in the world, our global marketplace of sellers can help you find unique and affordable options. Let's get started!
Steampunk Ring. Du suchtest nach: steampunk ring! Auf Etsy gibt es Tausende von handgefertigten Produkten, Vintage-Stücken und Unikaten passend zu deiner Suche. Ganz gleich, wonach du suchst und wo du dich befindest, auf unserem globalen Marktplatz mit Verkäufern aus der ganzen Welt kannst du einzigartige und preisgünstige Optionen finden. Los geht's!
Adopt The Unconventional Steampunk Decor In Your Home. what materials should you use in a steampunk decor A blank canvas your home should be seen as in the beginning of the design process. The chosen materials will create the background for your future creation, modeling light, atmosphere, sensations in subtle manners you might not foresee at a first glance.
31321 Best Steampunk Images In 2019. Jul 12, 2019- Explore Littleleafseedco's board "steampunk", followed by 4620 people on Pinterest. See more ideas about Jewelry, Rings and Whimsical fashion.
Tags: Ring In The Steampunk Decor To Pimp Up Your Home
Ring In The Steampunk Decor To Pimp Up Your Home
301 Moved Permanently
DIY Steampunk Wreath
Copper Pipe Jewelry Tree Modern Jewelry Organizer By
364 Best Images About Steampunk Furniture & Decor On
14 DIY Steampunk Projects [costume, Jewelry, Decor]
30 Creatively Cool Steampunk DIYs
Items Similar To Upscaled Recycled Industrial Lamp, Home
Steampunk Bedroom Ideas In 2019
Beautiful Key Like Wire Wrap
Tutorial: Steampunk Vial Earrings » Dollar Store Crafts
Steampunk Home Decor: How To Properly Steampunk Your Home
9 DIY Steampunk Craft Projects
25+ Best Ideas About Steampunk Design On Pinterest
EPBOT: 15 Pieces Of Steampunk Jewelry To Steam Up Your
21 Cool Tips To Steampunk Your Home
How To Steampunk Your Light Switch Plates
Best 25+ Steampunk Diy Ideas On Pinterest
The Pandora Society » Eye Full Productions
VINTAGE STEAMPUNK GAUGE MEDIC JEWELRY BOX FIGURINE
Cnc Router Table, Mirror And Art Decor On Pinterest
Emora Designs: Steampunk
Steampunk Jewelry Ring Made By CatherinetteRings Alligator
Steampunk Watches · A Watch · Sewing On Cut Out + Keep
Industrial, Dress Form And Steampunk On Pinterest
Knurled Pyramid Stud Wedding Band. Heavy White Gold 8mm Mens
48 Best Images About POCKET WATCHES On Pinterest
Collectible Steampunk Halloween Decor
DIY Steampunk Jewelry For An Edgy Feminine Flair
Silver Spoon Steampunk Ring By Compass Rose Design
Split Steampunk Mourning Ring In Solid Bronze With Skull And
COLONEL FIZZIWIGS STEAMPUNK JEWELRY BOX + COMPASS MACHINE
DIY Handmade Steampunk Jewelry Ideas
Top 20 Steampunk Fashion Essentials
Steampunk Victorian Cuff Bracelet, Edwardian Style, Cute
DIY Steampunk Home Decor: Clock Face Catch All
2100 Best Steampunk Style Images On Pinterest
The Art Of Up-Cycling: Steampunk Jewelry, Upcycling Ideas
Seahorse Nautical Hair Accessories
Mermaid Pocket Watch Necklace Pendant
Steampunk Ring · A Hardware Ring · Jewelry Making On Cut
Steampunk
STEAMPUNK ANTIQUE SKULL JEWELRY BOX VINTAGE STATUE COOL
Steampunk Tree Of Life Sterling Pendant One Of A Kind
Steampunk And Letters On Pinterest
Steampunk Dice Set (MXLCGVFY7) By Avandius
Items Similar To SALE Fabulous Steampunk Cabinet Of
Steampunk Wedding Inspiration
Steampunk Costume - Museum Replicas
Wind Chime Made Rustic Silver Spoons
Charmian Women's Steampunk Goth Halter Faux Leather Steel
17 Best Images About #steamPUNK ♞ On Pinterest
20 Savvy Handmade Industrial Decor Ideas You Can DIY For
Willy Wonka Ideas Images On Pinterest
Bling Rings Pimp
Leather Steampunk Officer Underbust
Steampunk Shooting With Seregwen Kr
Steampunk Watch
Best 25+ Car Parts Decor Ideas On Pinterest
Steampunk Altered Wooden Domino Pendant · A Tile Pendant
Hang This In The Cabin Of Your
Hi-Voltage Toric Generator Ring
Featured Booth: Nychta Sexy Gothic Burlesque Store
Best 25+ Steampunk Belle Ideas On Pinterest
DIY: Steampunk Boots
Best 25+ Steampunk Design Ideas On Pinterest
Handmade Steampunk Brass Light Fan Made From Antique
Steampunk Victorian Gothic Womens Costume Show Girl Skirt
25+ Best Ideas About Steampunk Clock On Pinterest
1000+ Images About Steampunk On Pinterest
12 Steampunk Party Supplies Decor Wedding Cellophane Bags
Amazon.com: Steampunk Cat Upcycled Vintage Dictionary Art
Vintage Jewelry Pieces For Repair/Parts, Steampunk, Arts
Best 25+ Steampunk Furniture Ideas On Pinterest
Tesla Watch
Amazing Home Theater Designs
2875 Best Lamps & Lighting Ideas Images On Pinterest
72 Best Images About Baby Shower
1000+ Ideas About Light Switch Plates On Pinterest
Diy Duct Tape Steampunk Top Hat · A Top Hat · Spray
25+ Best Ideas About Steampunk Home On Pinterest
How To Do Your Steampunk Makeup
Gothic Steampunk Clock By Leta
Shop Alternative, Cult, Rebel Clothing
5 Steps To Making A DIY Steampunk Costume
Steampunk 1852 Men's Graphic T Shirt
Cinder Garden Steampunk Designs
Manhattan Steampunk Apartment Now Up For Grabs!
Vintage Painted Clockwork Gears Steampunk Heart Cupid
Silver Filigree Steampunk Gothic Watches · A Watch
GOTHIC VICTORIAN BURLESQUE LACE CHOKER LADIES NECKLACE
Charmian Women's Spiral Steel Boned Steampunk Gothic
38 Best Images About Steampunk On Pinterest
Copper Watch Gear & Hands Steampunk Earrings
Antique Steampunk Wind-up Roman Dial Skeleton Mechanical
11 Pieces Of Garage Junk To Repurpose In Your Home
Wohnaccessoires Und Deko Selber Machen
Gothic Home Decor, Gothic Home And Skull Decor On Pinterest
EER Steam-Powered Entropy Calibrator Steampunk Watch By
Grind My Gears Steampunk Necklace
81stgeneration Women's Brass Vintage Style Rose Pocket
Steampunk Silver Fleur De Lis Ring
Gear Clock Wall Art
Steampunk Costume Theater Masquerade Mask For Men M39028
25+ Best Ideas About Vintage Nautical Bathroom On
Fiction Meets Fashion: Stylish Steampunk Inspired Projects
Unique Desk Light Made From Antique Binoculars. Upcycled
25+ Unique Steampunk Design Ideas On Pinterest
Steampunk Goggles · How To Make A Pair Of Goggles · Sewing
White Cravat Blouse
Steampunk Kaleidoscope-How You Can Make One
Tutorial, Steampunk Heart Pendants, Polymer Clay, Resin
Dark Clothes, Punk Shirts, Gothic Jewelry From Restyle.pl
Silver Steampunk Cyber Corset TopSilver Steampunk Cyber
Steampunk Industrial Robot Pipe Desk Lamp With Dimmer, 2
Steampunk House At Frau Engel » Sims 4 Updates
Victorian Boots Black Victorian Boots Steampunk Boots
Mens Black Steampunk Vest
Steampunk Clock Photo By Crazyinyoureyes
Swiss Army Knife Upcycled Steampunk Style Costume
Steampunk Watches · A Watch · Jewelry Making And Sewing On
Free Images : Watch, Vintage, Retro, Gear, Metal, Ancient
Items Similar To Steampunk Girl
34 State Of Art Steampunk Costumes For Womens That Will
Steampunk 'N Earthstones: New Necklaces On Etsy
40 Antique Gold Beads Tibetan Spacer Beads 7mm X 6mm
Skelapparel Women's Victorian Gothic Steampunk Bell
Cheap And Easy To Make Steampunk Keyboard
1000+ Images About Gears And Cogs On Pinterest
Witch Hat Earrings With Steampunk By TheAmethystDragonfly
How To Dress, According To Your Gothic Type
Steampunk Octopus Necklace Black Handmade Gift Aunt
Steampunk Mechanical Gears Clockwork Jewelry Box Figurine
Steampunk Black Rhinestone Heart Skeleton Key Necklace
Paparazzi Accessories
Best 25+ Ear Candling Ideas On Pinterest
Black Long Steampunk Dress By Punk Rave
Steampunk Goggles · How To Make A Pair Of Goggles
Steampunk Spiked Single Glove
Black Lace& Beads Choker Victorian Steampunk Style Gothic
Steampunk Clothing
25+ Best Ideas About Car Parts Decor On Pinterest
Winter Collection Steampunk Watches · A Watch · Jewelry
Alain Bellino Sculpture
Steampunk Key Pendant. Silver Upcycled Yale Key With Vintage
Amazon.com: Three 3 Individual Vintage Rusty Bed Springs
Steampunk Skull Cameo Necklace · A Collar / Bib · Sewing
Steampunk Choker With Armbands White
Diy Duct Tape Steampunk Top Hat · A Top Hat · Decorating
Items Similar To Handmade Upcycled Metal Mosaic Mirror
Lady Pirate Costume Ideas
Hooker Furniture Olantio Office Furniture
Women's Steampunk Gothic Black Plastic Boned Satin Hole
Vintage Gothic Pirate Skull Steampunk Wood Jewelry Box
Steampunk Filing Cabinet: Couldn't This Be Done On Metal
Shrine Men's Red Gothic Steampunk Victorian Cavalier
Steampunk Octopus Home Decor And Gifts
Sakura Hobby Crafts: Steampunk Airship Balloon Takes You
Steampunk Gothic Romance Halterneck Steel Boned Outerwear
Steampunk Table (Up Cycled) · A Table · Home + DIY On Cut
Charmian Women's Underbust Waist Training Steel Boned Goth
Paul & Danielle Steampunk Wedding #2030172
Curtsying Steampunk Fairy Figurine: Steampunk Gifts
Steampunk Letters
Charmian Women's Vintage Brocade Steel Boned Steampunk
Sue Shop Women's Fashion Buckle-up Steampunk Shapewear
Short Canvas Tai D Ring Coat - MCOTA02
Rebella Open Bust Sundress By Punk Rave Q-239
4462292957_5ddb41374b_z.jpg
Steampunk Hello Kitty Ladies' Tee
8 Mixed Cogs, Gold Brass Coloured Metal Cogs, Steampunk
Mimi-Toria's Designs: SHOP JEWELRY
Victorian Striped Bloomers
Steampunk Dice Set NoD00 (7VHHMBJ75) By Avandius
YOUnique Camera Accessories!! By Momo Lee
The Bronx By Vintage Industrial Furniture
Vintage Copper Flower Engraved Locket Pocket Watch
Octopus Steampunk Ocean Waterproof Shower Curtain Rings
888 Best Images About DIY-Recycle-UPCYCLE-DIY☮ ♥ Peace
By The Sea, Steampunk Style
STEAMPUNK GEARWORK MECHANICAL DESIGN SKULL BOX RESIN
Steampunk Interior Design At Truth Coffee Shop In Cape Town
Steampunk Gear Key Pendant Chain Necklace Vintage Women
#G45DarkSide: Steampunk Jewelry Box & Halloween Pop-up Book
The 8 Best Steampunk Games You Should Be Playing
DIY Steampunk Stamps
Charmian® Women's Retro Brocade Steel Boned Steampunk Faux
Charmian Women's Steel Boned Waist Trainer Brocade Vintage
Alivila.Y Fashion Women's Vintage Victorian Steampunk
Damask Gothic Men's Punkrave Vest Y-452
Diy Duct Tape Steampunk Top Hat · A Top Hat · Version By
Victorian Bustle Skirt Ruffles Cotton Sweeney Todd Style
Steampunk Airship Pirate Coat For Women
Black Velvet Layer Bustle Skirt
45 Best A Little SteamPunk For The Soul! Images On
One-of-a-kind Upcycled Repurposed Weston Ammeter Decor Stash
BOLT DESIGN BORUDAN MASA LAMBASI
Steampunk Clothing For Sale : Mens & Women Steampunk Clothes
Printable Victorian Steampunk Apothecary Labels
Steampunk Party Vintage Victorian Pocket Watch Paper
Mens Gloss PVC D Ring Tight Fit Jeans - MJEDR01
Industrial Steampunk Gas Pump Table Lamp Up-cycled Re-purposed
17 Best Images About K9 SP Cars Artwork On Pinterest
Steampunk Bowler Hat · A Bucket Hat · No-Sew On Cut Out
Steampunk Pendant · How To Make A Hardware Necklace
I'm Digging The Shiny Bra And Matching Panties.
Pendulum Clock In The Style Of ...
401 Best Images About Man Cave Material On Pinterest